Just a hair over 5 months and I'll be off to visit Costa Rica with Tony! For being such a small country there's SO much to see and do there! There's no way I'll get it in during the 13 days we'll have there (15 if you include travel days...uugh). Hopefully I'll have another trip there after this one and I can keep checking things off the list!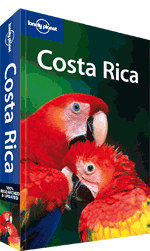 After we booked the trip Tony bought me the
Lonely Planet Costa Rica
guide (photo courtesy of Lonely Planet) so I could try and plan out our adventures. He's pretty much having me pick out all the stuff I think looks interesting and then we'll consult his family for input. Most likely multiple family members will be coming with us on our excursions so it's good to get their opinions. And for some of these things you have to really plan out the agenda since it can take forever to get anywhere! We'll be having a few side trips where we'll stay for a day or two somewhere just to get the most out of our time.
I'm well aware that I will be like a unicorn in Costa Rica being that I'm a red head and all. Costa Ricans aren't as dark skinned as those in Mexico, however so hopefully my pastiness won't stick out quite as much as I did there! :) I will need a huge stash of potent sunscreen again, however, since Costa Rica is even closer to the equator. I'm sure I'll survive!
People ask why in the world I'd go in July when I could go in mid-winter here and have a break from snow. Well, it's significantly cheaper to go off peak. Tony paid something like $1000 for his Christmas ticket and that's how much we paid for 2 to go in July. Seems worth it to me! That and the fact that the temp in San Jose (where his family lives) is the same temperature all year, pretty much. The beaches will be hotter, but I can deal with that.
So far, I've only gotten as far as determining that I want to see both the Caribbean side and the Pacific side in one trip...because I can. And I want to make sure I visit an active volcano and as many gorgeous beaches as possible. I also know I want to take a tour of a coffee plantation and eat as much fresh fruit and seafood as possible. And I enjoy their Imperial beer as well so I'll want that...mmm. Oh, we're planning on hitting up a Cloud Forest Canopy Tour at
Monteverde
. So cool! Yeah, the canopy tour is the only thing I know for sure we're doing besides one or two "must see" beaches. I'm still researching and am open to suggestions!
I do plan on having an active travelogue on this blog for friends and family to see my adventures in semi-real time. Check back for updates!